Welcome to the musical world of Spinout family affairs, from the record label (Spinout Nuggets), on to the online radio show (The Spinout Show), to the live outing and club night (The Spinout Revue), then collecting it all under one hat as Spinout Productions! Browse through for all Spinout affairs, and associated happenings. We appreciate your ears!
NEWS!
UPCOMING DATES 2021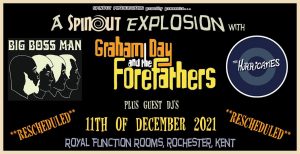 Spinout Productions presents ''A Spinout Explosion'', now rescheduled to Saturday 11th December 2021. Promising to be a night of musical pleasure, with 100% PowerPop, Hammond-fuelled, Garage mayhem, it'll be a musical journey with bands and DJ's playing from 19.00 till 01.00, at the Royal Function Rooms, Rochester.
Topping the night will be Graham Day & the Forefathers, with Big Boss Man and The Hurricanes leading things from the start. All three amazing bands will be supported before, in between and after by five DJ's, all from the Medway/Kent area, with the Spinout resident DJ's Lee Grimshaw and Dave Grimshaw, Russell Deal (DJ and Promoter from the sterling Cookin' Catfish Club nights), Richard Flack (DJ and Promoter from the souled-up Kent Soul Club nights) and Rob Flood (who has promoted and DJ'ed at many musical happenings in the Medway towns and beyond).
Graham Day and the Forefathers – words are hard to find to describe these three musical wonders. With Graham, Allan and Wolf, you have the crucial ingredients of The Prisoners, Prime Movers, The Solarflares and The Gaolers extracted and squeezed into one stripped power trio. Medway's very own finest and one of the best bands, if not the best band you will come across in the world. So many bands have been influenced by these talented fellas and it is no wonder why. Each song is sung and played with a turbo charged enthusiasm that never falters.
Big Boss Man – a hip Hammond hybrid of 60s RnB, Latin, Soul, Bongo-Fuzz and Funk might just describe the Big Boss Man sound. One of the best, if not the best live acts you will see anywhere. Nass, Trev, Des and Badger know how to get the crowd involved with their superb mix if inventive melody and pulsing tempo creating a modernist high energy show you will not forget. Recently played at the Shiiine On Music Festival alongside Graham Day and the Forefathers where they completely smashed the weekend and had everyone talking about them in the highest regards. First time playing in the Medway Towns for the lads as well.
The Hurricanes – four fellas in Dammo, Neil, Rob and Tony who describe themselves as a Mod Garage band. All songs played are their own and played with passion and style. You will not be disappointed. Melody, passion, enthusiasm and style. It is going to be a great night.
Before the bands start, in between the bands and at the end of the bands finishing, DJ's Lee Grimshaw and Dave Grimshaw, Russell Deal, Richard Flack and Rob Flood will spin tunes for your pleasure and to make your body want to dance. Covering 50/60s RnB, Northern Soul, Motown, Jazz, Latin, Medway, Boogaloo, British Beat, Ska and much, much more.
Listings of bands and DJ's to follow but book your tickets early as once sold out, the event is sold out.
We'd love to have your ears, and eyes, for all future Spinout happenin's.
Please sign up here!
We appreciate your ears!