Welcome to the musical world of Spinout family affairs, from the record label (Spinout Nuggets), on to the online radio show (The Spinout Show), to the live outing and club night (The Spinout Revue, A Spinout Explosion), then collecting it all under one hat as Spinout Productions! Browse through for all Spinout affairs, and associated happenings. We appreciate your ears!
NEWS!
UPCOMING DATES 2022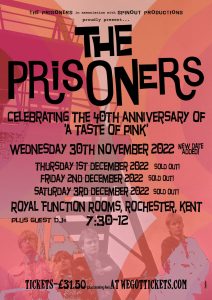 The Prisoners in association with Spinout Productions proudly present The Prisoners, live on Friday 2nd (sold out) and Saturday 3rd (sold out) December 2022, to celebrate the 40th anniversary of 'A Taste Of Pink'!
Having not officially gigged together for over twenty years, Graham, Johnny, Allan and James will be performing some of the tracks from 'A Taste Of Pink' alongside some other well-known favourites too, and it all kicks off from 7:30pm through till midnight, with guest DJs (tba) to warm-up and finish too.
And where better for this all to happen, but in Medway itself, at the Royal Function Rooms, Star Hill, Rochester.
The Prisoners line-up: Graham Day (Vocal and Guitar), James Taylor (Hammond Organ), Allan Crockford (Bass) and Johnny Symons (Drums).
The Prisoners are a British garage rock band, formed in 1980 in Rochester, Kent – part of the semi-mythical 'Medway Delta' scene. Their 60s influenced garage-punk sound made them a regular live fixture in the UK's psych/trash underground of the early to mid 1980s. The band were also adopted by Mods, and were widely considered to be one of the best bands associated with that scene despite not considering themselves a mod band.
During their career they released four original albums, regularly toured the UK and Europe, supported The Ramones on their 1986 UK tour and appeared in an edition of Channel 4's The Tube dressed in Star Trek outfits. They eventually split in 1986, feeling that they'd taken the band as far as they could. The Prisoners were later hailed as an influence on the 'Madchester' sound of bands such as The Charlatans and Inspiral Carpets.
They reunited for sporadic gigs during the 90's, headlining bigger venues than they did during their original time together. Their albums were re-released in the early 00s, while the individual members continued to play with varying degrees of success in acts like the James Taylor Quartet, The Prime Movers, The Solarflares, The Galileo 7 and Graham Day and The Gaolers/Forefathers.
Who knows if or when this may happen again? Don't miss out!
We'd love to have your ears, and eyes, for all future Spinout happenin's.
Please sign up here!
We appreciate your ears!