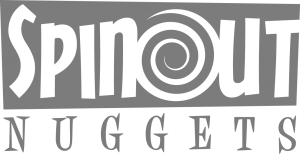 Essentially a record label, we're very lucky to have some fine musicians in the outer radius of the Spinout family, and this is where we are able to help get their mighty fine work out to various ears around the world.
It's a vinyl affair, in short runs, and we welcome a listen to your work/s with a view to a potential release.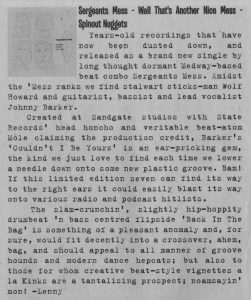 A mighty fine review of the first label release from Medway's Sergeants Mess, in the latest edition of Bananas Magazine! Big thanks to Lenny the words.
Order a copy at http://bananas-magazine.com/get-the-last-issue-/ or get it from your favourite label/distro in the next coupla weeks!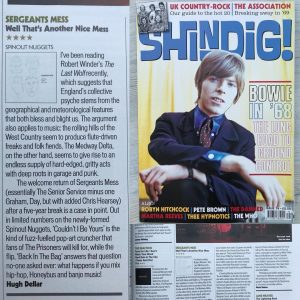 Check out Shindig! – ace to see a good 4-star review for the Sergeants Mess release on our Spinout Nuggets label, in the latest edition, amongst many other wondrous releases. Thanks Hugh. Get your copy now, both mag and seven inch!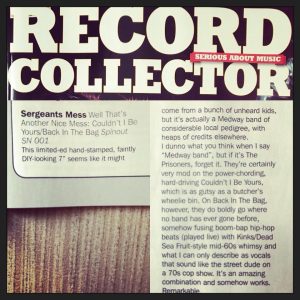 Check out April's edition of the legendary Record Collector Magazine (page 113) for a neat review of the recent release from Medway Sergeants Mess, on our very own Spinout Nuggets label (recorded at Sandgate Studios with Mole on the control). Also sharing the limelight with the ace release from André Mon Crocodile Records too. Thanks RC, and thanks Russell Taylor for the heads up.
Always a pleasure to listen in on the ace episodes from the Retro Man Blog, full of mighty fine musical wonders old and new, complete with education based around these too, but this one is particularly special as Steve has also featured the recent release from Medway's Sergeants Mess, released on our very own Spinout Nuggets label. And ace to hear Back In The Bag played too. Thanks for the support Steve Worrall. Mighty fine work!

We're very pleased to receive the latest edition of Heavy Soul Modzine today, not just for its fine, informative and desirable content, or its very well coordinated CD compilation, but also for the feature on our newly formed Spinout Nuggets record label, along with a mention of the first fine release from Sergeants Mess.

The fresh release from Medway's Sergeants Mess has made it to 'Record of the Day' at the mighty fine 50thirdand3rd – hit the link below.
You can still get yours at the Spinout shop, and all good record outlets.

The test pressings are in for the first release on Spinout Nuggets from Medway's Sergeants Mess.
More info very soon!