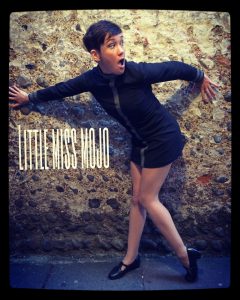 Cornwall born Little Miss Mojo has been making noise since her early teens. Having spent time living and performing in London, Nottingham, Brighton and throughout Europe, she returned to her home town in 2006, where she has been singing with various bands/artists, packing out bars, clubs and festivals from Newquay and beyond.
LMM's voice would be found in the Blue-Eyed Soul section of any record shop, rubbing shoulders with Julie Driscoll, Dusty Springfield and even Lulu! She was once described as the lost daughter of Janis Joplin. Within the magic potion there is also a mix of Northern Soul, 60s Psychedelia, Funk and Motown.
With strong influences from Julie Driscoll, Sharon Jones, Carole King, Dusy Springfield, Wanda Jackson, Nina Simone, Ella Fitzgerald, Peggy Lee, Betty Everett, Patti Drew, Motown, Julie London, Gladys Knight, Ann Cole, Van Morrison, Marlena Shaw, Etta James, Imelda May, Aretha Franklin, Led Zeppelin, The Exciters, Alma Cogan, Edwin Starr, Mel Torme and Janis Joplin, and a passion for all things Soul/Jazz/Swing/Funk/60sPsychedelia/RocknRoll, she is always up for any session, performing, recording or compering.
In addition to singing, Little Miss Mojo currently presents a weekly online radio show (Wednesday's 6-8pm), The Spinout Show, via online NCB Radio, with her co-host and partner in musical crime Lee 'Grimmers' Grimshaw, as The Speilers, they throw out musical wonders, giving you a vinyl stew with an eclectic blend, but frothing with Soul, Funk, R&B, Jazz, Medway Magic & Exotic Delights! Little Miss Mojo and Lee also perform as a DJ/PA collaboration.
YouTube links here: –
From Sam's At The Bay – https://www.youtube.com/watch?v=WrNfCz0eABU
Facebook page – https://www.facebook.com/EmmaLouBurnett