Here's the core team!
Lee Grimshaw – Lee is originally from Medway, and has been collecting records from a very young age, regularly hanging around his local record shop, doing odd jobs in return for vinyl rewards, progressing on to Saturday excursions through London record shops. The vinyl collection is still growing.
Although Lee wears several hats from the musical genre wardrobe, his main drive is anything ClubSoul/RnB/HammondJazz/Funk/LatinBoogaloo derived, with a little 60sGarage and Medway Magic thrown in too. Lee was born in to the Modernist world by his parents and older brothers (namely The Jam, The Who and Tamla Motown), and his Mum's legendary Gillingham based youth club, which attracted many faces from the Medway Modernist and Scooter scene during its run between 1982-88.
DJing started at private parties in Kent from the age of 16, but following a completed apprenticeship, it was time to relocate in his VW camper to Newquay, Cornwall where Lee has settled since '94. Between 2000-2015, Lee ran a regular club night with his brother, mainly in Newquay, Cornwall, widely known as Club Peel, tailor made to the lovers of Hammond Jazz, Northern Soul, Funk, Latin, Exotica, Soundtracks, R&B and 60s/70s Soul. They also ran the POW! club night, which saw Medway Magic fused with Indie, Alternative, Garage, Punk, Mod Revival and Brit Pop. Club running and DJing has also included promoting bands to the South West, with Big Boss Man being a regular, as well as localised bands. Club Peel still continues at various events, including recent boat cruises down the Thames.
Lee is also a joint founder of the Upstairs Downstairs DJ collective, and often DJ's with his fellow founders throughout the South West, offering late night adventures, and also co-operates The Listening Booth show and collective with Stevie JunkWax.
Throughout his musical purveying career, Lee has been honoured to play at Looe Music Festival, The Vintage Festival at Southbank, Boardmasters Festival, the Blow Up club night, Chill at the Mill, Volks Bar in Brighton (for the 60s and Modernists Weekender), Medway Weekender, The Great Estate, Torbay March of the Mods, 100 Club, Half Moon and Water Rats in London, Leopallooza Festival, Medway Legends Festival in San Sebastian (Spain), Royal William Yard Festival, Eden Project, Beatwave Weekender as well as supporting various touring bands/performers (Big Boss Man, Graham Day & the Forefathers, Otis Redding III, The SolarFlares, From The Jam to name a few).
In addition to DJing, Lee (Grimmers) currently presents a weekly online radio show (Wednesday's 6-8pm), The Spinout Show, on online NCB Radio, with his co-host and partner in musical crime (Little Miss) Mojo, as The Spielers, they throw out musical wonders, giving you a vinyl stew with an eclectic blend, but frothing with Soul, Funk, R&B, Jazz, Medway Magic & Exotic Delights! Lee and Little Miss Mojo also perform as a DJ/PA collaboration.
Lee still plays from vinyl record formats.
Main Facebook profile – https://www.facebook.com/lee.grimshaw1
Facebook page – https://www.facebook.com/LeeGrimmersGrimshaw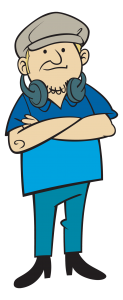 Dave Grimshaw – In 2017 alone, Dave played at the Modified Festival in Ibiza and at the South of France Soul Weekender, and has a whole history of record spinning at various events including The Vintage festival, Looe Music Festival, Boardmasters Festival and more.
Since the start of the millennium, Dave has also been promoting and playing at the Club Peel events, with his brother Lee, providing a platform for lovers of all things based around Soul, Jazz and Funk, from a modernists view, including Club Peel river cruises on the Thames, following spots at clubs, parties, scooter events and private parties, individually and together, since the late 80's.
Dave is also a joint founder of the Upstairs Downstairs DJ collective, and often DJ's with his fellow founders throughout the South West, offering late night adventures.
Dave has been a regular guest on The Spinout Show online radio show, and we value his musical offerings for The Spinout Revue outing too.