Description
Artist – The Spiracles
Release – How Things Went Well When I Met You
Side A
1. Fireflies
2. No Mercy
3. End Of The Affair
4. Fireflies (Elika Remix)
5. Fireflies (Can Altocamet Remix)
Side B
1. Almost Everything (Alternative Mix)
2. Mykonos Ambient (Mix 2021)
3. No Mercy (Juan Nolag Remix)
4. No Mercy (Jose Mendocilla Remix)
5. End Of The Affair (Zero83's Remix)
Label – Spinout Nuggets
Cat No. – SN060
Release date – 24th June 2022
Originating from Peru, The Spiracles music captures an elusive, hauntingly beautiful and melancholic sound; an eighties/nineties era undertone can be sensed in the music of this indie pop band. 
Whilst influenced by the likes of Cocteau Twins, Slowdive, R.E.M, The Field Mice and The Smiths, The Spiracles construct a sound that is also unique to them.
The lovely vocals, harmonies, and melodies of Aracelli Fernandez transcend to fuse with ear-tingling wall of guitars from Luis Rodriguez and Enrique Medina. 
Their debut single 'Fireflies' caught the attention of the US based indie label Saint Marie Records to release it as a digital single in 2012, and the band continued working the EP debut 'How Things Went Well When I Met You'. The debuted EP gained popular attention amongst the indie press and radio. Other songs included were 'No Mercy', a beautiful mid-tempo track, and a cover of The Field Mice's 'End Of The Affair'.  
Ten years on, and we're pleased to release a special 10th Anniversary Edition of 'How Things Went Well When I Met You', pressed for the first time to vinyl, and including fully remastered, new remixes and unreleased tracks, beautifully repackaged and a never before seen photograph of the band.
Side A includes the full tracklist as the original release, with Side B including two new mixes of out-takes, and new remixes by Juan Nolag, Zero83´s and Jose Mendocilla.
The sixtieth release on Spinout Nuggets, this record will be available via the label, the band and all very good record outlets. 
PS – Some forms of marine life use little openings behind their eyes called spiracles to draw in oxygenated water
Line Up: –
Aracelli Fernandez
Luis Rodriguez
Enrique Medina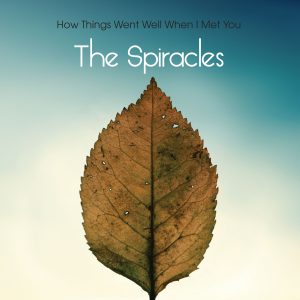 Video from the first release ten years ago: –