Description
Artist – Thee Headcoats
Release – Leader Of The Sect 'Bona!' / Paralysed By The Mountains 7″
Side A
Leader Of The Sect 'Bona!'
Side B
Paralysed By The Mountains
Label – Spinout Nuggets
Cat No. – SN090
Release date – 26th May 2023
Thee Headcoats are arguably the most famous and influential of the many group incarnations that Billy Childish has formed or performed in since 1977.
Cited in the New York Times – back in the day – as 'the undisputed kings of garage rock', Thee Headcoats rule (1989 – 2000) saw them as Childish's most prolific group – up until that time – releasing upwards of eighteen albums and over 45 singles.
Thee Headcoats performed their last gig in 2000.
With a 'break' of twenty-two years, Thee Headcoats got together over a weekend earlier this year and recorded a brand new LP, a 45 and an EP. These being released through Damaged Goods Records
Here, Spinout Nuggets comes into the picture. Having the ear of mister Childish, our executives convinced the Dearstalking Man to allow us access to the original tapes and can now proudly present a 45 from that same great session, allowing the listener an earhole of a 'Bona' alternative version of 'Leader Of The Sect', – complete with 'Round The Horns Sandy and Julian' on the intro (also listen out for Thee Headcoatees on backing vocals).
This is coupled with an unreleased rendition of 'Paralysed By The Mountains'.
Our advice: don't hang about if you want this classic piece of wax spinning on your turntable, as Thee Headcoats' 45s don't go stale on the shelf. The Kids might be all Square, but this is HIP!
Limited to 500 copies, this Bona 45 is the ninetieth release on Spinout Nuggets and is available via the label, the group and all very good record outlets whilst stocks last.
Line Up:
Billy Childish – Guitar/Vocals
Tub Johnson – Bass Guitar
Bruce Brand – Drums
Notes:
Recorded at Ranscombe Studios, Rochester.
Produced by William 'Spook' Loveday.
Engineered by Jim Riley.
Published by Another Music.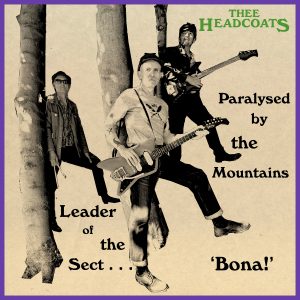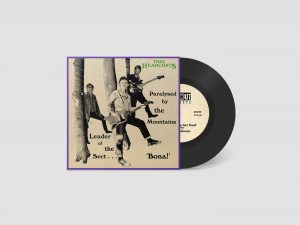 These neat posters available via L-13 – here!