Description
Artist – The Veras
Release – Ladies First
Side B
Shoot Them All
Label – Spinout Nuggets
Cat No. – SN084
Release date – 28th April 2023
The Veras are four fellas making music inspired by all the great music from the 50s right up to about 5 minutes ago. Spending years playing shows all over the land for their very well established Small Faces tribute band (Small Fakers), the four wanted to create something new, and thus The Veras was born, just before the pandemic hit!
After backing soul legend PP Arnold on numerous occasions and having rock legends Kenney Jones (Small Faces, Faces, Who) and Glen Matlock (Sex Pistols) getting up to play with them on numerous occasions, with their new offering their second-ever gig was with the aforementioned Glen Matlock and long-term David Bowie collaborator Earl Slick!
Since then, they've released two vinyl 7" singles and a couple of CD-only releases, also releasing their debut album 'V For Veras' late 2022. Music media describe the band's music as 'hard-edged melodic Britpop' and likening them to groups as diverse as The Small Faces, Manfred Mann, The James Gang, The Prisoners, Supergrass and Blur.
'Ladies First' is a sparkling bubble of gender-bending-all-niches-included group hug of a gnarly fuzz pop song, whilst 'Shoot Them All' is a balls-out rockabilly-tinged hit.
Both tracks were recorded and produced by Morgan Nicholls, former bass player with indie-pop band The Senseless Things. Morgan has since worked with Muse, Lily Allen, Gorillaz, The Streets and The Who, along with his dad Billy (who was a song-writing and performing collaborator with Steve Marriott and Ronnie Lane when he and Small Faces were both on Andrew Loog Oldham's Immediate record label, making yet another link between The Veras and the Darlings of Whapping Wharf).
The eighty-fourth release on Spinout Nuggets, limited to 400 copies, two sleeve designs exist (200 of each); one via the band (which includes artwork by Katy Riley), and one via the label and all very good record outlets.
LINE UP:
Matt Bond – Vocals & Guitar
Neil Runalis – Bass Guitar
Jon Gray – Organ & Vocals
Dan Taylor – Drums
NOTES:
Produced and Recorded by Morgan Nicholls.
Published by Spinout Music.
Artwork by Neil Runalis / Katy Riley.
Label artwork: –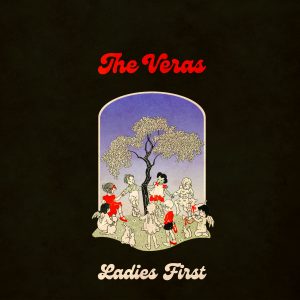 Band artwork: –